---
EESE Review # 1
---
CD-ROM Database for Native Studies

Jost Hindersmann, Gundula Wilke (Osnabrück)

Human Relations Area Files: Bibliography of Native North Americans. CD-ROM version. New Haven, CT 1992 ff. (semi-annual update). Price: ca. $ 1,000 (Contact SilverPlatter Information, Inc. for pricing and sale information)

In recent years Native Studies have gained a growing importance in American Studies. SilverPlatter has responded to that situation with the publication of a new CD-ROM. The Bibliography of Native North Americans (BNNA) is the only bibliographic database published on the history, life and culture of Native North Americans. This CD-ROM-database, updated semi-annually, contains more than 60,000 citations. The subject areas covered are multidisciplinary and include anthropology, history, linguistics and literature, social and political science, medicine, psychology and law. The term "Native" is used as a broad term including Indians, Métis and Inuit as well as other aboriginal peoples of the United States, Canada, Mexico, Siberia and Greenland.

This electronic publication, compiled by the Human Relations Area Files (HRAF), corresponds to the printed 4th edition of Ethnographic Bibliography of North America and its supplements. The BNNA lists monographs, essays, journal articles and dissertations from various countries as well as US American and Canadian government publications. Autobiographies and even some novels are included in the records; however, the selection criteria for the latter remain unclear. The earliest documents mentioned are publications from the sixteenth century. The BNNA is of a particular interest for researchers because of its multidisciplinary approach and the variety of subjects covered. If you, for instance, enter the key word "Native Women", you will find publications on topics such as crime, prenatal care, disabilities, political activism, and traditional roles. A comparison of the BNNA search results for a more specific term, "Trickster", with search results of other bibliographies shows that, due to the BNNA's interdisciplinary approach, some specialist journals are indexed that usually are not considered in standard bibliographies. On the other hand, some basic references otherwise mentioned in any recent bibliography on the specific subject area are missing in the search result.

TI: Gender at work in Laguna Coyote tales
AU: Delgadillo,-Theresa
SO: Studies in American Indian literatures -- Vol. 7, no. 1; 1995. p. 3-24
PY: 1995
DT: Journal-Article
LA: English
IS: 0730-3238
EG: Acoma-
DE: Folklore-; Sex-Stratification; Texts-; Trickster-
ID: Coyote; Gender Roles; Laguna Pueblo, N.Mex.
GE: Southwest-
UD: 9606
AN: 1476

Above you can see a sample record (fig. 1). The bibliographic details of the records are inconsistent. A record can consist of up to 20 fields, but many of those often are blank. A descriptor field is used for subject indexing. However, the database lacks a thesaurus for the user to check the controlled vocabulary. The fields "Ethnic Group" and "Region or Geographic Name" allow a specific search for particular ethnic affiliations and geographic regions. The retrieval software SPIRS (SilverPlatter Information Retrieval System) can be installed on different platforms: Windows, DOS, Unix, Mac, Web (fig. 2).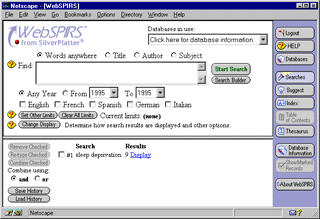 SPIRS, also applied with other SilverPlatter databases such as MLA International Bibliography, is easy enough in its application to be used by inexperienced users. It allows experienced users to conduct very specific searches. Two ways to conduct your search are offered, Searching with Free Text and Searching Directly from the Index. The latest version of SPIRS can be downloaded free of charge from SilverPlatter's ftp-server.
In Germany there is currently only one subscriber to the BNNA, the Staats- und Universitätsbibliothek Hamburg as the German library responsible for Native North American Studies (SSG). According to the subject librarian in charge, Mrs. Monika Thoms, the BNNA last year was accessed 516 times, which is a good average.

The BNNA database is the most important and most comprehensive bibliography on Native Studies, an essential tool for anyone researching Native North American topics and issues. With a price of about $ 1,000 for a stand alone license the BNNA is relatively affordable.