Burials, Texts and Rituals
Ethnoarchaeological Investigations in North Bali, Indonesia
edited by Brigitta Hauser-Schäublin and I Wayan Ardika
Volume 1
Göttinger Beiträge zur Ethnologie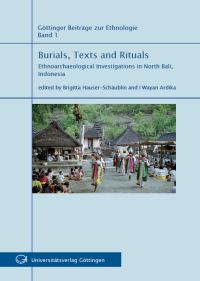 Abstract:
The villages on Bali's north-east coast have a long history. Archaeological finds have shown that the coastal settlements of Tejakula District enjoyed trading relations with India as long as 2000 years ago or more. Royal decrees dating from the 10th to the 12th century, inscribed on copper tablets and stillmpreserved in the local villages as part of their religious heritage, bear witnessmto the fact that, over a period of over 1000 years, these played a major role as harbour and trading centres in the transmaritime trade between India and (probably) the Spice Islands. At the same time the inscriptions attest to the complexity in those days of Balinese society, with a hierarchical social organisation headed by a king who resided in the interior – precisely where, nobody knows. The interior was connected to the prosperous coastal settlements through a network of trade and ritual. The questions that faced the German-Balinese research team were first: Was there anything left over of this evidently glorious past? And second: Would our professional anthropological and archaeological research work be able to throw any more light on the vibrant past of these villages? This book is an attempt to answer both these and further questions on Bali's coastal settlements, their history and culture
Contents
Cover/Table of Contents/ Contributors
Download the PDF (890 KB)

Looking Back in Time
Introduction
Brigitta Hauser-Schäublin and I Wayan Ardika
Download the PDF (274 KB)
Sembiran und Julah – Sketches of History
Brigitta Hauser-Schäublin
Download the PDF (2,38 MB)
The Textiles of Sembiran
Marie-Louise Nabholz-Kartaschoff
Download the PDF (2,58 MB)
Saggah Dawa in the Life of Pacung Community
I Wayan Patera
Download the PDF (459 KB)

Environment and Change
Changes in the Landscape
Enrico Kalb
Download the PDF (1,27 MB)

Archaeological Evidence and its Interpretation
Archaeological Traces of the Early Harbour Town
I Wayan Ardika
Download the PDF (348 KB)
Traces of Human Life Style from the Palaeolithic Era to the Beginning of the First Century
I Made Suastika
Download the PDF (1,04 MB)
The Burial System at Pacung
Marini Drawatik
Download the PDF (1 MB)
Short Report on the Microscopic Examination of Bone Samples from a Neolithic Burial
Michael Schultz
Download the PDF (709 KB)
Excavation in Julah's Temporary Settlement of Upit
I Ketut Setiawan and Rochtri Agung Bawono
Download the PDF (492 KB)
Socio-Political Aspects of Ancient Julah
I Ketut Setiawan
Download the PDF (296 KB)

Appendix
Sembiran Inscriptions
Download the PDF (991 KB)
Return to publisher's homepage
Download the entire book (PDF, 17 MB)
You can order via mail or through the booktrade .
format 17x24 cm
Softcover, 310 p with several coloured pages. : 38,00 EUR
(ISBN 978-3-940344-12-0)
[order per mail]