VIETNAM STUDIES
COMMUNICATIONS­ELECTRONICS 1962-1970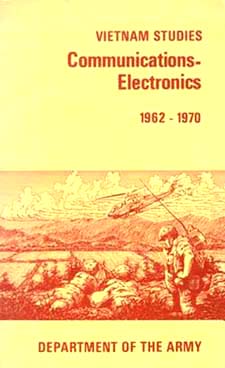 by
Major General Thomas Matthew Rienzi
DEPARTMENT OF THE ARMY WASHINGTON, D.C., 1972
---
Library of Congress Catalog Card Number: 71-184863
First Printing
For sale by the Superintendent of Documents, U.S. Government Printing 0ffice
Washington, DC 20402 - Price $1 (paper cover)
Stock Number 0820-0425
---
The United States Army has met an unusually complex challenge in Southeast Asia. In conjunction with the other services, the Army has fought in support of a national policy of assisting an emerging nation to develop governmental processes of its own choosing, free of outside coercion. In addition to the usual problems of waging armed conflict, the assignment in Southeast Asia has required superimposing the immensely sophisticated tasks of a modern army upon an underdeveloped environment and adapting them to demands covering a wide spectrum. These involved helping to fulfill the basic needs of an agrarian population, dealing with the frustrations of antiguerrilla operations, and conducting conventional campaigns against well-trained and determined regular units.
As this assignment nears an end, the US Army must prepare for other challenges that may lie ahead. While cognizant that history never repeats itself exactly and that no army ever profited from trying to meet a new challenge in terms of the old one, the Army nevertheless stands to benefit immensely from a study of its experience, its shortcomings no less than its achievements.
Aware that some years must elapse before the official histories will provide a detailed and objective analysis of the experience in Southeast Asia, we have sought a forum whereby some of the more salient aspects of that experience can be made available now. At the request of the Chief of Staff, a representative group of senior officers who served in important posts in Vietnam and who still carry a heavy burden of day-to-day responsibilities has prepared a series of monographs. These studies should be of great value in helping the Army develop future operational concepts while at the same time contributing to the historical record and providing the American public with an interim report on the performance of men and officers who have responded, as others have through our history, to exacting and trying demands.
All monographs in the series are based primarily on official records, with additional material from published and unpublished secondary works, from debriefing reports and interviews with key
[iii]
---
participants, and from the personal experience of the author. To facilitate security clearance, annotation and detailed bibliography have been omitted from the published version; a fully documented account with bibliography is filed with the Office of the Chief of Military History.

The qualifications of Major General Thomas Matthew Rienzi to write Communications-Electronics are considerable. From 1962 to 1964 he served as Signal Officer, XVIII Airborne Corps; from 1964 to 1966 as Executive Officer to the Department of the Army's Assistant Chief of Staff for Communications-Electronics and as Program Manager for Combat Surveillance Target Acquisition and Night Vision Equipment; and from 1966 to 1968 as Commanding General and Commandant of the US Army Signal Center and School at Fort Monmouth, New Jersey. In all these positions he exercised a strong influence on communications-electronics personnel, organization, and equipment bound for the combat zone. In September 1968 he became the Deputy Commanding General and, in February 1969, the Commanding General of the 1st Signal Brigade in Vietnam, a larger than division size command. For twenty­one months, General Rienzi was centrally involved in the communications-electronics aspect of the US effort in Southeast Asia. In June 1970 he assumed command of the Strategic Communications Command, Pacific, at Schofield Barracks, Hawaii, and serves concurrently as Deputy Chief of Staff, Communications-Electronics, US Army Pacific, at Fort Shafter, Hawaii.
Washington, DC
15 October 1971

VERNE L. BOWERS
Major General, USA
The Adjutant General
[iv]
---
There is an old Army maxim: "The communicators are the first ones in, and the last ones out." The 39th Signal Battalion was the first regular US Army ground unit to enter Vietnam, but from this modest beginning there followed a steady buildup of Signal troops to match the initially slow but later accelerated growth of US Army forces in Vietnam. By the end of 1968, the controlling Signal headquarters in Southeast Asia, the 1st Signal Brigade of the US Army Strategic Communications Command, comprised six Signal groups, twenty-two Signal battalions, and a total strength of over 23,000 men-by far the largest Signal organization ever deployed to a combat theater by the United States Army. This unit of larger than division size, when coupled with the field forces Signal organizations, composed a formidable command-control force.
This study attempts to record some of the most important experiences, problems, and achievements in the field of communications-electronics during the years 1962 to 1970. It lays no claim to the definity of history.
I hope that it will show the influences that were at work and lessons learned. While I accept full responsibility for the conclusions reached, it would be misleading to pretend that I have not been influenced by my gifted predecessors, my successor, and many contemporaries, along with a tremendously outstanding group of commanders who needed enormous electronic power to do their job.
As the tempo of operations in Southeast Asia continues to diminish, the Army can look back with pride-with new wisdom on the accomplishments, under very trying conditions, of its communicators in the Republic of Vietnam and throughout all of Southeast Asia. And a good candidate for the last Army unit to be extracted could well be a Signal battalion composed of aggressively and dynamically great American soldiers who made it all possible.
Washington, DC
15 October 1971

THOMAS MATTHEW RIENZI
Major General, US Army

[v]
---
(CLICK ON IMAGES WITHIN THE CHAPTERS FOR FULL SIZE RESOLUTION IMAGES)
PART ONE
The Lean Years and Early Buildup, 1962-1965
PART TWO
The Buildup Climaxes, 1966-1967
PART THREE
Communications Mature and Move Toward Vietnamization, 1968-1970
Charts
Maps
Illustrations
Illustrations are from Department of Defense files except for the cartoon on page 130 by Vernon E. Grant, which appeared in Pacific Stars and Stripes; the photograph on page 42 of a painting by Specialist Chester Satkamp; and the photograph on page 162 of a water color by Specialist Eric K. Chandler.
---
page last updated 19 June 2003

---